2020 Christmas gift guide for your lovely kids--every kids deserves a best Ride on Toy in their childhood to become the star of the whole street.
Professor Jeffrey Goldstein, a child psychologist at the University of Utrecht and co-editor of Toys and Communication (2017), a study about there is something of fundamental importance going on when children play."There is no other activity that develops their language, spatial awareness, social and communication skills and physical abilities in such a prolonged way,"he says. The development of children's physical and mental ability are realized in mutual activity. Kids ride on cars meet their activity needs and improve the activity enthusiasm as children could freely manipulate and play with according to psychological interest and ability level, which plays a crucial role in childhood.
Kids ride on cars from conventional hobbyhorse to battery powered toy car offering endless pleasant childhood experience which are more than just playthings and be fun, but also should be considered as developmental learning tools which should be age-appropriate, emotion-stimulating, and safe - guaranteed. There are great differences among different age for intellectual and physical development as each basic phase of life from infants, preschoolers to grade schooler is in the process of continuous progress. Some suggestions for you to choose the most age-appropriated kids ride on car.
1- to 3-year-olds: Infants and Toddlers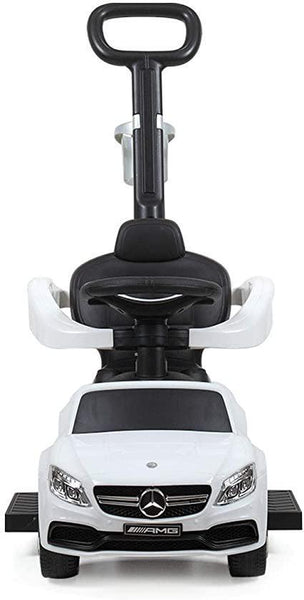 From infants to toddlers as a explorer, they become more mobile and independent exploring everything they could access to learn about the world around them and reach milestones in how to play, imitate, behave, and move (like walking, jumping and crawling). They will appreciate any kids ride on cars which responds to the actions they made and employ newly acquired motor skills in actual life.
3 in 1 Ride-on Toddler Push Car as stroller, a walking car or riding pedal car may be a prime present for infant and toddler.
Step 1 - around 1 year old, with a push-and-pull handle as stroller, the push car for infants could be easily maneuvered by parents to control the push bar to possess the speed and steering wheel, a safety bar and a pedal to prevent tumble off the car. Equipped multifunctional buttons with music and horn sounds stimulate exploring interest of the infants.
Step 2 - around 1-2 years old, take push bar off and put pedal on as walking car, toddlers can now steer the car autonomously while parent can still control with the push bar for accident prevention. Safety handle and anti-falling backrest turn it into an versatile walker as foot-to-floor design help to build learning environment to develop toddlers' motor skills, a sense of independence could be cultivated.
Step 3 - around 2-3 years old, as get older, the push bar could be taken off as a riding car for toddlers who could steel the car completely. In order to manipulate the steering wheel and be free to move, toddlers need to resort to various parts of the body to observe the complex surroundings, which conducive to exercise the ability to motor ability, physical coordination and balance competence. 
3- to 5-year-olds: Preschoolers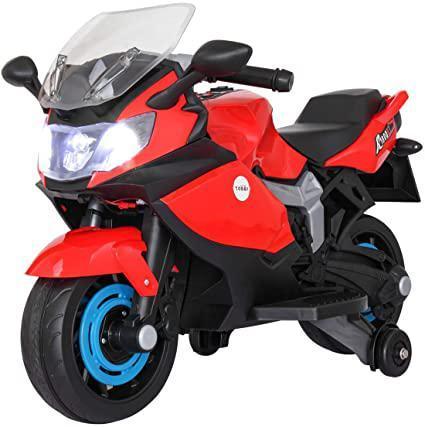 Preschoolers have increasing concentration levels and begin to explore their own world. They start to organize their own language to express innermost thoughts and like to experience with their still-emerging physical skills.
The motorcycle electric bike could bear up to 44 lbs to satisfy the regular weight standard of 3-5 years old which could meet the needs of preschoolers to explore their own world out of the control from parent simultaneously. Two big wheels constructed with thick EVA foam rubber tires for skidproof is suitable for various of road condition, no restrictions on where children go on lawn, asphalt road and boardwalk etc.. Additional dual small training wheel at each side assist preschoolers in keeping balance as motor skills do not develop completely while could be taken off when they acquire the techniques totally. Electric ride on motorcycle equipped with MP3 audio input to connect with devices plays music or story for a better learning environment, a built-in music and police siren and lighting make little ones to be a real hero to save the world when they ride on this motorcycle electric police bike. Licence plate with flag of the united states makes little ones have a national consciousness.
When Preschoolers do not have enough physical coordination to operate the motor car, three wheel motorcycle with the weight capacity up to 66 Lbs could be a best choice. Three wheel motorcycle made of high-quality plastic weighting less than 12 pounds is portable to carry or put in trunk when have a family gathering and two round concealed storage boxes on each side of the seat reduce the bother to take necessities for going out along. A backrest installed to prevent lost balance and fell off assuring kids riding safety when luxuriate in cruising. Three tires constructed with polyurethane are wear-resistant enough to accompany with your little one the whole childhood. Headlight and colorful LED lights on the body part makes the toy motorcycle much cooler in the night time, which also could take as a spotlight to illuminate.
When kids are not widely exposed to real life, they learn about the world through toys. Ride on cars not only enriches kids perceptual knowledge, but helps to consolidate the impression they acquire in life, which develops sensory and motor abilities for kids at the same time.
3 to 8-year-olds: Preschoolers and Gradeschoolers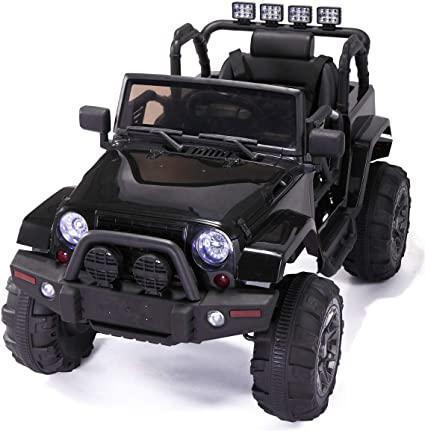 Gradeschoolers gradually feel confident in their ability to meet the challenges in life. In this stage, they gradually developed different personalities and interests, and have their own self understanding about toy preferences.
More unique creativities added to the this Jeep with classical and unfailing SUV element make it a great difference from the common stylish ride on car, which guarantees to receive the most conspicuous attention on indoor or outdoor riding tour. On their early stage, secured belt and remote control could be applied for security without affecting enjoyable playing emotion while parents could participate in the happy time simultaneously. Adequate safety consciousness skills and coordination ability have got, kids could operate the sensitive foot pedal autonomously for faster or slower speed to feast their driving cruise. One of the advantage of the jeep is that the chassis is more higher than other car could avoid roadblock effectively to maintain stabilization. MP3 input allowing a variety of music to play and authentic headlight make the jeep stand out of the crowd. Picturesque appearance and multifunctional practicability fulfill kids specific different age-characters.
"Pushing a toy car around is a good example of developing physical skills through play." Prof Goldstein says. Fine and gross motor physical skills could be obtained through the chance to play with kinds of ride on cars. Pick the most applicable ride on car for your kids on the basis of the physical condition to acquire the maximal development.
Go and Discover a electric ride on toy car to your lovely kids for Christmas.