See the things you use to decorate your outdoor space as opportunities to give your eyes a visual treat. What we see can affect how we feel and it only takes a small thing to create a happy vibe. A patio sun shade awning cover in your favourite colour, a patio swing chair that reminds you of a holiday, simple chair sets that recall laughter-filled nights with friends. Some days, you need a little escapism to regulate your current life. It's a sunny warm day and everyone's in the mood for staying outside. Gather family and friends for a meal or party and move the whole things outdoors. Suddenly an ordinary day is turned into precious time to remember.
Want to make space for entertaining outdoors right now? See how concise furniture has turned your personal space into an outdoor living area that is perfect for spontaneous gatherings.
Manual RetractableSunshadeCover Awning
No matter sun, wind or rain, you can open this canopy with a traditional rocker hand. Protect your friends, families, or yourself from both sunlight and wind (under force 5) or rain showers with this parasol canopy. The fabric blocks 98% of the ultraviolet radiation while also resisting water and fade, and the aluminum frame is solid and anti-rust. It is recommended to install on reinforced concrete walls, brick walls or wood walls. Since it creates a large shadow, you can enjoy your outdoor relaxing dining with your family. Stores or courtyards are good places to use this product.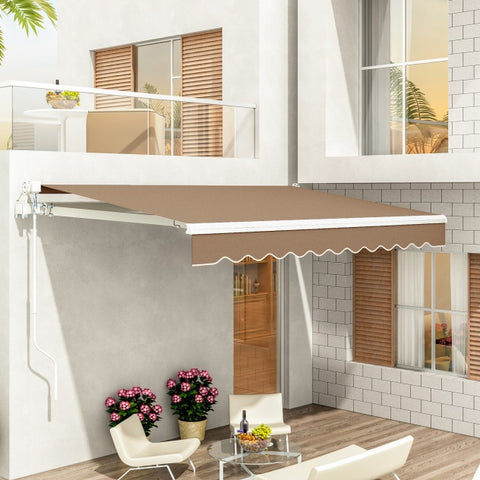 Extra LargeDouble-Sided Outdoor Umbrella
If you want a movable patio parasol, you must have this one. Coming in wine red with a black-finished frame for classic beauty, the outdoor umbrella is easy to open or close by using the crank. Opening it reveals 12 strong ribs that expand the large canopy widely for most patio tables or small seating arrangements. The extra-wide top (178.5" L x 104.7"W x 96.5"H) supported by a robust iron pole is designed with 2 vents to add comfort and ensure the balance between the internal and external. The fabric parasol gives excellent protection against the sun's UV rays as it has a UPF (Ultraviolet Protection Factor) rating of 50+, which means it blocks 98% of the ultraviolet radiation. Find more here: Practical and attractive, these umbrellas will provide the finishing touch for any outdoor grouping.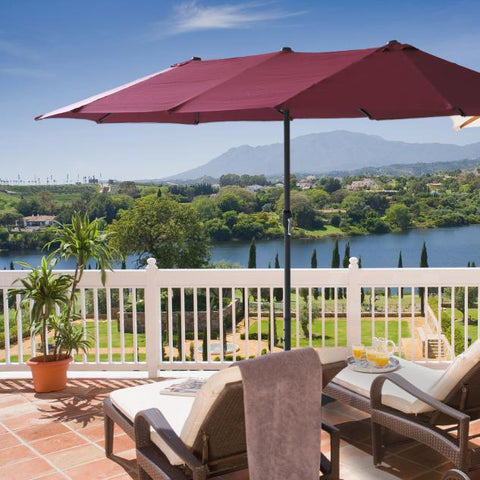 StandingWicker Hanging Chair with Soft Deep Cushion
If you are searching for a hanging chair to match your yard, you can consider this one. This folding hanging chair with a comfortable thick cushion is ideal for leisure and relaxation. Made of black steel pipe and braided rope, the hanging basket frame is firm to hold up to 330 lbs and rustproof for outdoor use. The perfect combination of vogue elements and delicate essence displays a unique and artistic sense. Considering the function and comfort, the special and humanistic structure will make you indulge in leisure without any tiring feeling. It will be a perfect spot to read books, listen to music, take a nap or enjoy afternoon tea. Besides, you can fold the chair simply for compact storage when not in use. Elegant, simple and practical, we hope to decorate your peaceful space with a kind of perfect poetic thought.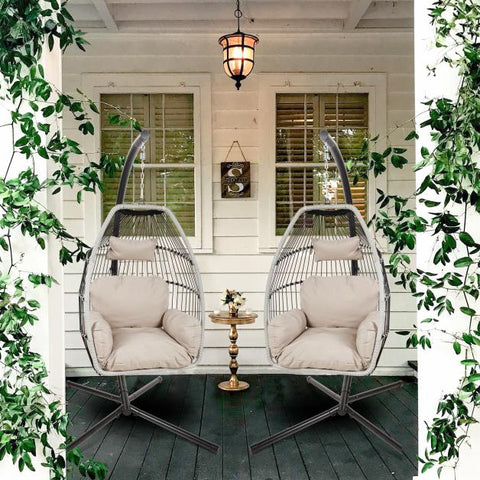 10-Pack White Plastic Folding Chairs
This classic chair has an original and mysterious beauty, which is true and free, without any decoration. Fade-resistant plastic combined with protective powder-coated steel gives a durable, weather-resistant and easy-to-clean furniture, which is sturdy to support up to 220 lbs. Featuring a clean white silhouette with deluxe synthetic surfaces, the chair set will adapt seamlessly to public and private spaces. You will sit on comfortably thanks to the ergonomic backrest and soft cushioned seat. With the proper height design, the chair can easily match most standard tables. With the folding design, these 10-pack folding chairs allow you to access extra seats easily and store effortlessly when out of use. It is a perfect set for your balcony, home party or wedding.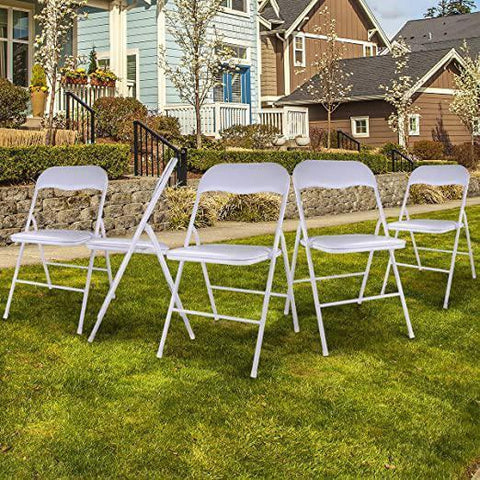 Life is to meet your own double need of substance and spirit by a kind of the most felicitous way. Your outdoor area is worth dressing up with concise yet practical furniture. It is advisable to choose these multifunctional furniture that makes you feel peaceful while making your space elegant and functional in style.
It is better to stay at home during the outbreak. Having these outdoor furniture can also experience the beauty of nature. Hope everyone will be safe and sound.