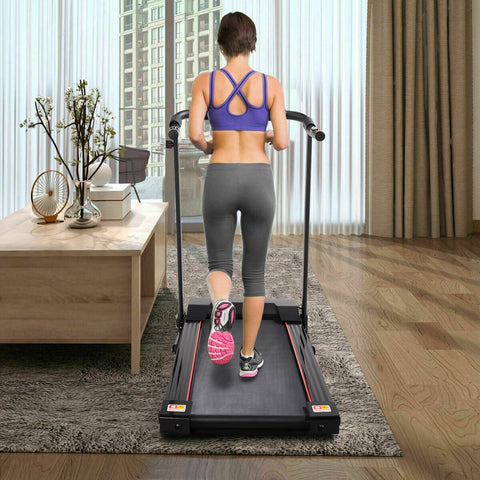 Today, we would like to share a story about a treadmill equipment.
Obesity has become one of the worst reasons that threatens our health in modern society. It does not only due to the intake of too much sugar and meat, but also the lack of fat-consuming of the body.  
For instance, if you are an office worker, usually you have to stay in the office and sit on the chair the whole day long from Monday to Friday. As for the weekend, mostly you would like to stay at home and have a good rest so as to recover your energy. Seldom would you get spare time to do some sports. As a result, equipping your home with an affordable treadmill could not be a better decision. Just like many nutritionists and experts of sports said, moderate aerobic exercise should be a regular part of our city life, no matter fitness or common workout.
Nonetheless, when it comes to fitness or workout, we would always think of the stereotype questions on the media, like 'Do you like running?', 'Should I do more training?' or 'Have you scheduled running? To be frank, few people would have an appetite to these headlines. Although almost every one of the over-weight group cannot even wait for minutes to get rid of this horrible chronic torture, most of them could not persist in running. As known to public, running is never a kind of relaxing exercise. It's boring and exhausting for most of us. As soon as we hear of the word 'running',the fear of being out of breath and dripping sweat from head to toe just takes over. Well,that's truly a journey to the hell even for professional athletes, not to mention ordinary people like you and me.
It seems inevitable to move our legs when we need to take exercise, particularly while running is one of the most significant fitness training. However, jogging on the electric treadmill could be a perfect replacement compared with traditional running. You don't have to certainly catch up with quick pace, instead, adjust your step speed to reach a proper exercise intensity. So it would be easy for you to continue it every day. Gradually your body would start to accommodate itself to such a routine workout about 1 week later while the effect of weight-losing just turns up more and more obvious. Imagine that, by then your body regains its shape, flexibility, power, vitality and health what a wonder you make by efforts! And I'm one of those who succeeded in losing weight without constraining food intake strict but the regulation of jogging. I think maybe choosing a right running treadmill counts as well. The following is my story of overcome the difficulties.
I'm an office worker in the IT department of my company. About 6 months ago, from time to time I just fell asleep during work. My manager thought maybe I was sick or short of sleep at first. Then it turned out that's not on account of poor sleep, but the long-accumulating fat in my body caused by my bad habit. I did not realize my lack of exercise until I was told it's the obesity that caused my uncontrollable physical fatigue at day.
Occasionally I noticed a very unique folding treadmill online and decided to buy it right away. It's light-weight, compact yet multifunctional, which is exactly what I needed the most. Featuring a 3" blue-ray LCD display, it can clearly shows the detailed data of your workout progress (up to 12 modes including the computing of time, speed, distance, calorie, heart rate and the corresponding ones in countdown). The slope-changeable running belt is wide, skid-proof and wear-resistant. The speed can be adjusted from 0.62mile/h to 6.2miles/h, quickly responded by powerful motor. Configured with a safety key, it would pause immediately in case of anything emergency might happen. I was really pleased about this electric treadmill with incline function, because since the day I started my jogging, now I have reduced over than 30 kilograms of my weight. 30 to 60 minutes' jogging is enough for my excessive fat to burn. I could nearly feel the speeding-up of my metabolism. And my partner, the lightweight treadmill, it's incredibly durable for its low price, multiple functions and great safety reliability over the past 6 months. If you have a low budget for a treadmill exercise machine, then you could consider this very cheap treadmill equipment below $300.00 for home use.
I'm now not an over-weight one and as expected I'm energetic just like 10 years younger. Of course, in addition to the daily jogging on my motorized treadmill, I did have a balanced and nutritious diet, but just a little bit decrease of calorie intake every meal, nothing obstacle to my normal enjoyment of delicious food.
Remember, workout does not affect your parties or dining at all. It's just a test to your persistence of doing exercise of certain amount. In a word, persisting jogging on the best fitness running machine will meet your needs of both delicacy and a robust body.